Charlotte Kingsnorth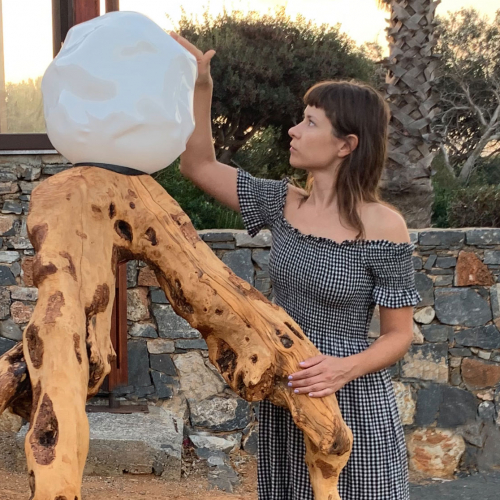 Charlotte Kingsnorth's approach to design welds functionality with a personal exploration of materiality, form, and the subversive. She cuts through traditional craft techniques and hacks into industrial processes as a type of art form.
"I want to dismantle the identity of an object in order to understand the context behind its design. I am interested in deconstructing archetypes, as well as Jean Baudrillard's concept of the hyperreal and the inability to distinguish reality from a simulation of reality".
In 2019, she presented her first major show with The New Craftsmen, who commissioned her to produce a collection of bronze furniture based on her new studies into lichen-like patination techniques.
She is a graduate of the Royal College of Art's Design Products programme and now runs her London based practice, working with clients, galleries and establishments including Bill Gates, Fendi, SHOWstudio, Christies, The Crafts Council, The V&A, The New Craftsmen, Holon Design Museum in Israel, the Triennale Design Museum in Milan, and shown in design fairs accross the world.
website | https://www.charlottekingsnorth.com/
Project Title: Gods Chewing Gum
Media: carved olive tree, melted plastic, lighting cable
Date: October 2020
In terms of a workspace it was a rustic set up, which made it an interesting challenge. I worked on a fallen olive tree that the owners Leda and Costa (and several extra pairs of hands) had lifted over from some land nearby.
Stood out in the beautiful Cretan autumn light, I dug out the burrs, hacked, carved and sanded the bark of the tree. I wanted to play with the texture to recreate a new bark coating onto its surface. An animalistic transition happened when we turned the tree on its head, like an octopus with branching tentacle legs. I made it into a giant sea light with a melted head and positioned it in their gardens. Looking out to sea, it runs on solar power energy and illuminates the garden at dusk.