Theodore Boyer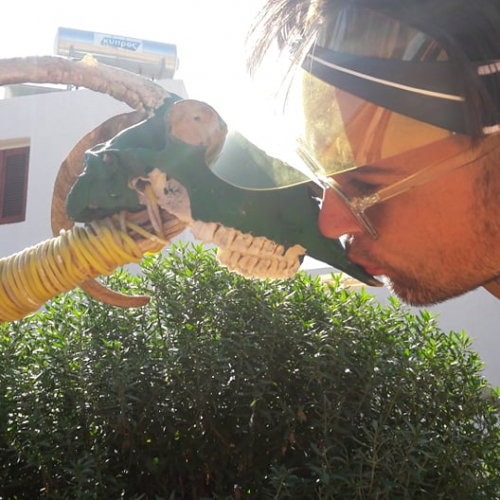 A native of Los Angeles who was adopted at birth, Theodore Boyer's painting and sculptural practice navigates a wide range of subjects materials: a formal examination of identity and belonging. A multimedia merger of motifs offers a vehicle for personal revelations via investigations in cartography, astrology, astronomy, anthropology and mysticism. Boyer's research in science—and pseudoscience—provides a narrative framework for further investigations into color: the grounding focus of Boyer's oeuvre. Dense pigments permeate the backgrounds of Boyer's paintings in saturated rainbow hues. Alchemical spills, stains and splashes dye the canvas, exposing numerous under-paintings visible through various transparencies. Throughout his paintings and sculpture Boyer nods to abstract expressionism, minimalism and psychedelic graphic art of the 20th century and blends those with imagery and subjects from his own history.  Born in 1983—orphaned between the Millennials and Gen X—Boyer's work reflects that liminal space between the digital and physical planes. In his ongoing series "Rainbow Cataclysm" he grapples with the notion of humanity's connection to, and disconnection from, nature: a return to earth, after the fall, or maybe just before it.
website | https://www.theodoreboyer.com/
Project Title: Untitled
Media: bones, wood, plastic, discarded furniture, acrylic, spray paint
Date: October 2021
Concept/Idea of the work and a short description of your experience of working at Elounda Island Villas:
I chose to use materials found in and around the Villa.  By doing this I was able to explore Elounda and the surrounding areas, collecting materials from various parts of the island, while immersing myself into the rich cultural history of Crete. My combine sculptures are mythological animal totems to Elounda representative of my time spent there.