Freya Edwards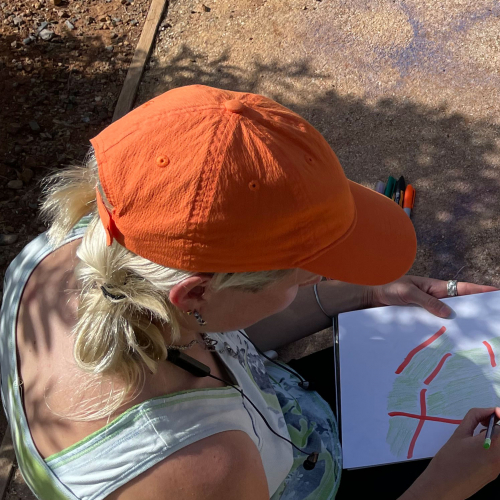 I attended the Royal College of Art (2019-20) to study a PG Diploma Ceramics and Glass. Prior to this I studied a BA in Fine Art at Chelsea College of Art (2014-17).
Previous exhibitions include a joint exhibition with printmaker Lizzie Urquhart at Govan Project Space, Under an Uneven Moon (2020) and a joint exhibition as part of Guest Projects Digital Residency, A Fabricator's Tale (2021). In September 2021 I was invited to undertake a two month residency in the pottery village Vume in Ghana, where I learnt traditional pottery techniques from local craftswomen and taught ceramic workshops in the local Junior High School.
I have been working since 2018 as a fabricator for the artist Yinka Shonibare and have experience working as a ceramic technician and teaching ceramic workshops in Greenwich University as part of their Architecture Summer School.
Project Title: Twelve Tiles
Medium: Stoneware Ceramics
Date: Summer 2022
Concept/Idea of the work and a short description of your experience of working at Elounda Island Villas:
I designed the piece as an outdoor, site-specific work. I wanted to incorporate the work into the landscape on Elounda island, for the black of the clay to contrast with the rich red of the clay ground and the blue of the sea in the background. I was interested in creating a work consisting of tiles, some of the most commonplace ceramic objects. They pertain to an architectural function, but have been removed from that context and arranged as a pictorial scene or painting in the ground. The piece has the quality of a map, that's been disturbed, leaving the viewer to interpret its code. There is a mythical quality to the landscape on Elounda island and I wanted to install the work in a spot where the natural landscape around the work could be read as integral to the piece, with the lines and mounds coded into the tiles appearing to reflect the constellations in the sky at night or appearing to reflect the pathways through the gardens around the piece.
Artist's statement, concerning the project:
My ceramics explore the relationship between colours, surfaces and textures. My intention is to push the material qualities in the clay and glaze to their limit to create constructions that appear to warp, buckle and ooze. The work is inspired by architectural and natural forms from my surroundings, juxtaposing the patterns and synthetic colours found in industrially manufactured objects with the more earthy tones of the clay. I'm interested in the mass structures that can be found dominating the landscape of the city, with organic forms that can be found hidden within these spaces; fungi growing in ex industrial sites, weeds pushing up through pavement slabs, the resulting work being a juxtaposition of disparate aesthetics; artificial and natural, organic and plastic.