Tamara MacArthur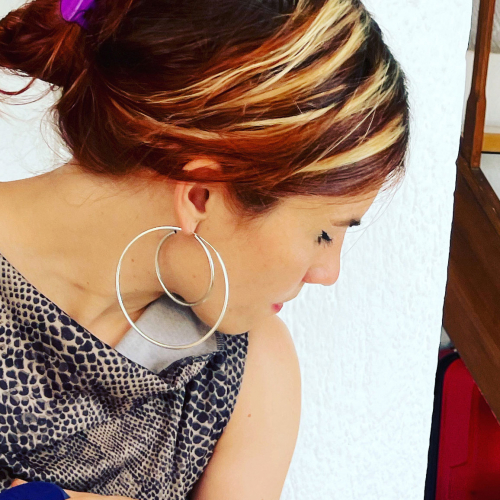 Tamara MacArthur (1994) is a British visual artist working across drawing, installation, performance, and video. They are currently based in Glasgow, where they completed a BA Hons in Fine Art at Glasgow School of Art, 2017. MacArthur's work explores longing, futility and the boundaries of intimacy.
The installations are constructed to be warm and beguiling with a nostalgic air that alludes to familiar old songs and stories. These glittering paper homes play host to a moment of emotional intimacy Tamara attempts to generate between the viewer and themself. The constructions are their best effort; everything laboriously hand-made and embellished – no effort spared. But the obvious attempts to impress tip into almost comic excess. The sets are forward-facing: the sculptures revealed as flat-backed reliefs and the "glittering silver" is kitchen foil – fragile façades… paper-thin. They rely on the audience-participant to suspend disbelief, because 'it wouldn't be make-believe if you believed in me'.
Project Title: The Moon and the Mountains
Medium: Graphite on paper
Date: October 2022
Project Title: Over and Over and Over the Mountain
Medium: Graphite on paper
Date: October 2022
The drawings I made on residency at Elounda Island Villas are part of an ongoing body of work inspired by a series of paintings and oil sketches named Winter Night in the Mountains by Norwegian artist Herald Sholberg. His works are a deep exploration of his experiences in the Rondane mountains. I began drawing soft mountain-scapes at home during a fatigued period of long covid. Much like Sholberg's paintings, they were an attempt to conjure and embody an emotional space, steeped in quietness.
I developed the series earlier this year on residency in Cill Rialaig, Ireland, located between sea and misty mountains. It felt natural therefore to return to the series during my time on Elounda Island – once again situated on the water's edge facing the dry, naked mountains of mainland Crete. Through sketching, observation and gathering video footage of the mountains, I attempted to learn them. The Cill Rialaig mists became the Elounda haze; experiencing different ranges in different climates felt reflective of my continued research into the anthropomorphism of nature and connection with emotions and memory.